| | | |
| --- | --- | --- |
| | | |
| Banqiao Memorial House | | The downtown |
General Information
---
Taizhou, referring to "Peaceful Prefecture" in Mandarin, is a city with a history of over 2,100 years. The city's name has not been changed in the past 2 centuries even through its prefecture jurisdiction did modify. Taizhou's earliest jurisdiction was established in the Spring and Autumn Period. In the Eastern Jin Dynasty, the town experienced its booming economy and the substantial salt trade made it a home for many wealthy merchants. Taizhou City is one of Jiangsu thirteen prefecture-level cities which administers two old municipal districts and 4 county-level cities, Jingjiang, Jiangyan, Taixing, and Xinghua. Dubbed"China's medical city", the city has becoming a national hub for hosting dozens of major international and domestic corporations in pharmaceutical, biomedical, biochemical and bio-tech enterprises.
Geography, Resources and Climate
---
The city is situated on the north bank of Yangtze River, bordering Nantong to the east, Yancheng to the north, and Yangzhou to the west. The total land mass is close six-thousand square kilometer and the water surface area occupies 17% of its land. Under influences of Yangtze River and the Grand Canal, Taizhou experiences a subtropical monsoon climate with humid changeable wind and the raining season is usually from the middle of June to July.
Jurisdiction
---
Taizhou jurisdiction includes 6 county-level divisions, of which two are districts, four are cities. The districts are the old urban areas of Taizhou while the four cities are recently designated as city-level districts being considered as suburbs and governed by the Taizhou city administration. The special industrial zones are specifically designated as new investment areas.


Area and Population
---
Taizhou jurisdiction has a population over five million and its land mass is 5,793 square kilometer. The ethnic components are predominantly Han nationality, with 37 other minority nationalities.
Economy, Industry and Environment
---
Taizhou and its jurisdiction are traditionally considered as a farming land and its moderate weather and rainfall make the city one of Jiangsuís agricultural areas. The farming income still occupied a major portion of the cityís economy nowadays. Agricultural products include cotton, livestock, vegetable and aquatic products, specifically for ginkgo and aquatic production. Over years, Taizhou and its jurisdiction have matching into industrialization. Coming in investments and capital funds greatly improve its financial capability and the new industrial sectors continue in emegering. After Jiangyin Yangtze River Highway Bridge opening in 1999, spanning between Jiangyin (under the jurisdiction of Wuxi) and Qingjiang (under the jurisdiction of Taizhou), Taizhou is now tightly connected to the economically booming south of Jiangsu. The improvement of transportation further attracts more investors to the town and all Jiangsu North. The sectors include pharmaceuticals, mechanical, electrical manufacture, food manufactures and textile. Industrial contribution to the cityís GDP has reached 60% and its share is still in increasing. The establishments of two railways and Jiangying Yangtze Highway Bridge have brought the city new opportunities for financial benefit and the city has established multiple economic co-operations with more than a hundred of countries or regions. Numerous international corporations have set up their regional offices in Taizhou. Dubbed"China's medical city", Taizhou has becoming a national hub in attracting more major international and domestic corporations to settle their subsidiaries and facilities. These enterprises mainly involves researches or manufactures in pharmaceutical, biomedical, biochemical and bio-tech fields as well as many pioneer projects, such as stem cell research. The vast developmental and economic growth have improved the city's environment and brought in opportunities. Now Taizhou is one of the well-known historic and cultural cities in China. With its solid economic foundation and protected environment, rich cultures and historic sites, Taizhou welcomes all the visitors around the world. Economic growth and environmental conservation have always seemed like two different approaches. The industrialization of Taizhou has brought obvious contaminations to the cityí environment. Many cities under the jurisdiction have been putting stiff environmental policies into practice and have spent significant funds over years to protect their ecosystem. Jiangyan and Xinghua cities have been awarded the national and provincial ecological reputation, respectively. A village of Jiangyan City, Heheng Village, with a nearby township, Shenggao Township, was listed on the Global 500 Roll of Honour for Environmental Achievement by the United Nations Environment Programme.
Transportation and Tourism
---
Taizhou was available only for highway and waterway transportations before Ning-Qi and Xin-Chang Railways officially opened in 2002 and 2003 respectively. The recent establishments of two railway give the city and its jurisdiction an additional advantage, efficiently linking this area to the national railway network. In September 1999, the second Yangtze River Bridge in Jiangsu Province, the Jiangyin Yangtze River Highway Bridge, was opened to public, linking the Jiangyan on the northern bank of Yangtze River to Jiangyin on the south of the river. The opening of the bridge has significantly changed the traffic situation of Taizhou as well as its jurisdiction, or even more profoundly of the entire Jiangsu North Plain, reducing the traffic time and connecting directly the area to the economic booming region, the Jiangsu Southern Plain. Taizhou Port is a critical inland port along the Yangtze River and it brings the city remarkable business prospects and convenient waterway access. With a new funding on hand, the city is spending more on the renovations of the port's infrastructure to improve its capability in cargo transportation. The city is on the list of Historical and Cultural Cities of Jiangsu Province and its tourist service is booming as well. Each of the subdivisions under the Taizhouís jurisdiction, including counties or towns has its own tourist attractions, including historical relics, temples, momerial halls, parks and more.
Education
---
Taizhou is the city that hosts five higher learning institutions, including Jiangsu Veterinary School, Taizhou Teacherís College, Taizhou Campus of Nanjing University of Science and Technology, Taizhou Campus of Nanjing Normal University and Taizhou Campus of China Radio and Television University. Taizhou has well instituted compulsory primary education system, nearly 100 percent of school-age children are enrolled in schools. The secondary schools including high schools achieves significant graduate rate.
Culture and Folklore
---
Taizhou is under the influence of traditional Huaiyang Cuisine, popular in this area. In history, Taizhou was administrated under Yangzhouís jurisdiction and many of its customs and traditional culture are similar with ones in Yangzhou.
Notable Personage
---
As a city with an enormous number of heritage sites, Taizhou boasts a hometown for many celebrities in Chinese history, including great artistic Masters Shi Nai'an, Zheng Banqiao, Mei Lanfang, and more. The current China State President, Mr. Hu Jintao, was born here and completed his elementary and high school educations in the town.
---
Back to home page
Advertisement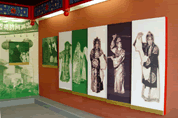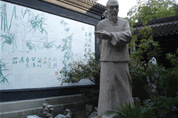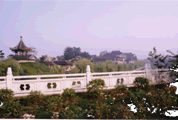 Advertise
Web Services
Live Poll
---